The PSE EX piezo switch from SCHURTER has achieved approval according to ATEX class II 2 G Ex ib IIB T4. This approval enables the switch to be employed in explosive facilities above ground.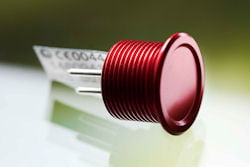 The protection class refers to the permissible application in areas where an explosive atmosphere can arise from a mix of air and gases, vapors or mists. The switch may be typically used in oil/gas production systems, in petrochemistry, as well as in paint and varnish mixing facilities. Preparations for extending the approval to include dust-Ex applications are underway. The standard design is available for a mounting diameter of 16mm with pin connections and various housing colors. Additional mounting diameters and connection designs are available
upon request.
The switches for Ex applications are labeled with the type of approval and an identification number. In accordance with the ATEX guidelines, an installation manual is included in the scope of delivery.
.
Enquiry Form: http://www.epreston.co.uk/enquiries.php
Home Page: http://www.epreston.co.uk/epblog/