Bulgin announces new version of MPI range of illuminated vandal resistant switches.
All MPI switches have bodies and buttons machined from high-grade stainless steel. A tough Polycarbonate lens in the stainless steel actuator gives a robust and aesthetically-pleasing switch.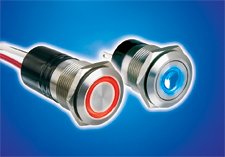 All switches are front-panel sealed to IP66. However, Bulgin's new range is also rear-of-panel sealed. This makes them suitable for use outdoors or in other situations where condensation or leakage behind control panels can be problematic. Rear panel sealing is available in a variety of styles, including single and dual colour with dot or ring LED illumination. Independent switch and LED terminals allows customers the flexibility to choose between permanent or controlled illumination. Contacts are single-pole push-to-make.
"The MPI series of switches boast IP66 sealed properties combined with a rugged design and a variety of style options," comments John Wilson, MD of Elektron Technology. "With this latest addition to the Bulgin range Elektron Technology further enhances its complete design-and-manufacture service, offering our customers across a number of industries a flexible, quality solution to meet their control panel design needs."
The switches have either solder tags or screw terminals, which facilitates easy field servicing, and also feature potted moulding and flying leads to the rear of the switch. With integral supply resistors the LEDs can now be driven directly from 6, 12 and 24V supplies.
The MPI series is tested to 750,000 mechanical and 35,000 electrical operations and rated at 50mA, 24V dc. The series has also recently undergone design improvements at construction stage, incorporating surface mount LEDs and TVS's.
All switches in the MPI series have momentary action contacts making them ideal for access control and door entry applications including lifts, panic buttons, car park barriers, emergency telephones, vending machines and food processing.
.
Enquiry Form: http://www.epreston.co.uk/enquiries.php
Home Page: http://www.epreston.co.uk/epblog/