Schurter expands its family of EMI-Line Filters for one phase systems with a new and compact high end filter series, called the FMBB NEO. Three variations of 2-stage filter designs allow a specific selection of FMBB NEO filter products for efficient EMI solutions.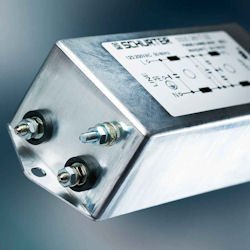 The new FMBB NEO Filter series consists of 3 different compact 2-stage filter designs. The 3 filter designs (Design C, Design D and Design F) are characterised by a high symmetrical and asymmetrical attenuation. The FMBB NEO filter Design C attenuates potentially strong conducted interferences. Design D is laid-out for the attenuation of high frequency interferences, whereas the Design F is designed more for low frequency noise attenuation. All designs come up with a high insertion loss performance. The FMBB NEO one phase filter is dimensioned as a 250 VAC filter at a rated current of 1-36 A according IEC and 125/250 VAC, 1-30 A according UL/CSA. The connection to the filter is made by quick connect terminals or with bolts and nuts, style M4. Optional flexible wire leads are available on request.
The compact NEO designed EMI-Filter is intended for use in industrial applications such as frequency converters, stepper motors, UPS-systems, current converters. On request medical versions with leakage currents of < 80μA (M80) respectively < 5μA (M5) are available. The series is ENEC and cURus approved and is qualified for use in equipment according IEC/EN standard 60950.
Technical Features:
– One phase EMI-Line Filter according IEC60939 and UL1283 available in 3 designs (design C/D/F)
– Current ratings: 1-36 A at 250 VAC (ENEC) or 1-30 A at 125/250 VAC (UL/CSA)
– Quick connect terminals / bolt and nut M4 terminals / flexible wire leads optional
– Standard or medical version M5 or M80
– Screw-on chassis mounting from top
.
Enquiry Form: http://www.epreston.co.uk/enquiries.php
Home Page: http://www.epreston.co.uk/epblog/