Finder has introduced a series of microprocessor-based room thermostats providing a temperature setting resolution accuracy of 0.1ºC and advanced setting options to help reduce energy usage in residential and commercial environments.
Two new slimline thermostats are offered, each in a choice of grey or white housings:  the 1T.31 provides LCD display and pushbutton temperature setting, while the 1T.41 provides LED indication and analogue dial temperature setting.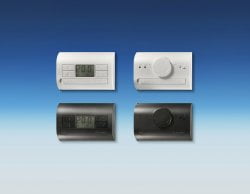 For both variants, selection of off, winter/heating and summer/cooling setting modes is very simple with either LCD display or blue/red colour coded LED indicators ensuring quick recognition of operating status.
A day/night selector enables temperatures to be set back by 3ºC to help further reduce energy consumption while maintaining a comfortable ambient environment.  In addition, a +5ºC frost protection setting in the off mode helps protect against burst pipes.
Designed to be used together if required in the same building, both digital and analogue thermostats are presented in a consistent 18mm deep, IP20 rated housing for wall mounting.  The thermostat supply voltage is provided by two AAA 1.5V batteries and the output contact is a 5A, 230VAC changeover relay.
Enquiry Form: http://www.epreston.co.uk/enquiries.php
Home Page: http://www.epreston.co.uk/epblog/