For use in extreme ambient conditions, particularly outdoor applications.
With the new piezo keypads SCHURTER provides key panels that are impervious to all kinds of dirt and fluids. The keypads are particularly suitable for use in outdoor applications due to their ability to resist extreme ambient conditions such as negative temperatures, ice and snow. The keypads fulfill the IP69K protection class and have a reliable operating temperature from -25°C to + 85°C. The accessory kit from SCHURTER enable the keypad to be sealed into the housing with the IP68 protection class. The piezo keypads can be mounted into the housing from the front or
the rear.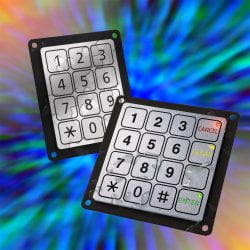 As a standard, the keypads are available as a number block with 12 or 16 keys and with an aluminium front. Point illumination may be integrated into the individual key fields as optical feedback or for user navigation. The operating panel can be designed in several colours in both the aluminium and stainless steel versions. In addition, SCHURTER can provide keypads that are adapted to customer requirements with respect to outer geometry as well as to the number and arrangement of the keys.
By using the piezo principle, the keypads are free of mechanical parts and therefore have an extremely long lifetime of more than 20 million actuations.  The completely sealed operating panel is easy to clean and is resistant to common cleaning agents. The metal surface with an IK05 impact strength renders the keypads highly resistant to impacts from outside. The piezo keypads provide a high level of functional reliability, leading to a reduction in maintenance costs.
Enquiry Form: http://www.epreston.co.uk/enquiries.php
Home Page: http://www.epreston.co.uk/epblog/