The new and first of its kind power entry module, Schurter series 5707, advances the range of applications in the area of detachable power. It offers an alternative to makeshift accessories often used to prevent particles or liquids from entering into the appliance. The new power entry module is resistant to dirt, dust and other fine particles, as well as sprays, splashes and jets of non-aggressive liquids. It is ideal for use in electronic equipment exposed to leaks, drips and spills, as well as equipment subject to routine washing or disinfecting.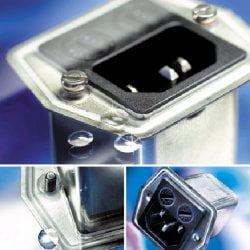 The inlet portion of the 5707 is according to IEC 60320-1, style C14 or C18. It is combined with a 1-or 2-pole fuse holder and a standard or medical EMC filter rated up to 8 Amps at 250 VAC. The complete unit is rated IP65 with seal protection at the panel opening, around the fuse holders and between the inlet and connector pins. The seal at the panel opening is achieved with a rubber lining, which is fixed into a groove around the metal flange. Front or rear mount versions are available. Special screws guarantee the sealing at the mounting holes.  The fuse holders are independent of each other and accept 5×20 mm fuses. Screw caps with o-rings are used to provide a seal between the cap and holder. A tool is required to remove the cap from the holder to replace the fuse, which is required for medical equipment.
The 5707 offers pre-wired electrical connections, using 6.3×0.8 quick connect terminals. The series is approved according to ENEC, UL & CSA. Versions for protection class I or II are available, as well as a version with special class I capacitors for increased voltage withstand. The module is according to medical standards IEC/UL 60601-1 and is ideally suited for use in medical applications such as diagnostic, dialysis and infusion devices, as well as commercial appliances such as drink dispensing equipment.
Enquiry Form: http://www.epreston.co.uk/enquiries.php
Home Page: http://www.epreston.co.uk/epblog/