This latest addition to Bulgin's Data Buccaneer range of dust and waterproof connectors is a new Mini USB 'AB' style interface in three panel mounted configurations.
These three new 'AB' versions offer a choice of panel mounting. The first, PX0456, is front of panel mounting with a flying lead to the rear, terminated with a 6 way 0.1" crimp connector.
The other two are rear of panel mounted; the PX0457 has a flying lead terminated with 6 way PCB header and the PX0458 has straight PC pins for direct soldering to a PCB. Both of these allow the connector to be soldered to a PCB sub-assembly and tested as part of the assembly before final build.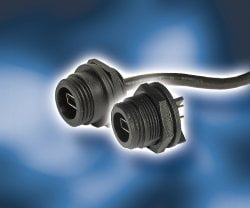 Being compatible with both mini 'A' and mini 'B' style interfaces this new 5 pole product allows the true functionality of this 'plug and play' interface.
As with others in the Buccaneer range, the mini USB connector is dust and waterproof to IP68, when mated, and provides USB V2.0 performance up to 480Mbs.
The matching pre-wired cable connectors, PX0441 and PX0442, are available in 2, 3 and 4.5m lengths with a sealed Mini 'B' type USB connector paired with either standard or miniature 'A' type USB connector. The diameter over the coupling ring is just 19mm and the screw coupling provides a secure, proven locking system.
Mini USB Buccaneer finds many applications within smaller peripherals or where panel space is at a premium and, as with all Bulgin products, is fully RoHS compliant.
Enquiry Form: http://www.epreston.co.uk/enquiries.php
Home Page: http://www.epreston.co.uk/epblog/