New to Arcolectric's extensive range of rocker switches is the 6100 IP67 panel sealed version.  This neat, compact, sealed rocker switch will maintain sealing characteristics of the equipment without the use of external covers. Ingenious internal sealing provides the necessary seal while still maintaining a strong tactile feel.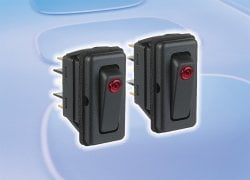 Although external switch covers can be used to provide environmental sealing, they can often obscure the switch status and give an indistinct switching action, Arcolectric's new switch solves these problems.
Rated at 16(6)A, 250Vac T125, this single pole switch is available in non-illuminated or LED illuminated versions, both types carry ENEC approval.
The compact 'L' body profile has a 30 x 11mm panel cut-out with snap-to panel fixing, accommodating 1.0 to 3.0mm panels and is supplied complete with panel gasket; no extra sealing accessories are required. Terminals are 6.3mm faston tabs.
The switches are ideal for use in equipment that will be used in environments where ingress into equipment's could affect its operation.
Enquiry Form: http://www.epreston.co.uk/enquiries.php
Home Page: http://www.epreston.co.uk/epblog/