The Type 18.21 and Type 18.31 ceiling-mount PIR movement detectors from Finder have been designed to detect the presence of body heat and movement within a defined sensing area, for the control of lighting in commercial, industrial and domestic premises.
There is considerable pressure to reduce energy consumption in public buildings and the workplace, both for reasons of cost and to meet legislative demands for more energy-efficient control of lighting, and these detectors will be of interest to designers, engineers, contractors and installers of lighting control systems for offices, factories, workshops, schools, hospitals, care homes and similar environments. They are particularly suitable for use in areas that do not require continuous lighting, such as stairwells, corridors, store rooms and washrooms.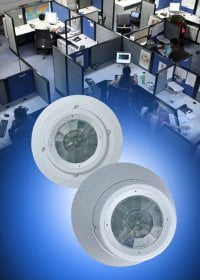 The 18.31 is a shallow depth flush mounting recessed unit that offers neat, unobtrusive mounting in either suspended or plasterboard ceilings, even where space is limited, while the 18.21 is a low profile surface mounting version that is suitable for more solid surfaces where recessing is not practical. Both models feature a 110º sensing angle that provides coverage over an area of up to 8m diameter, and both also benefit from an integral adjustable threshold light sensor that allows operation to be varied relative to the ambient light level. An adjustable on-time gives the advantage of an adjustable delay before the lights are turned off after the detection of movement ceases.
Both versions are rated at 10A and 230V AC, and have a nominal lamp power rating of 1kW for incandescent and halogen bulbs and 350W for compensated fluorescent lights.
Packaged in a compact white plastic housing, these competitively priced products are ideally suited to a wide variety of installations.
Enquiry Form: http://www.epreston.co.uk/enquiries.php
Home Page: http://www.epreston.co.uk/epblog/