Finder has announced the introduction of the 13.81 electronic step relay, which is designed for the pushbutton control of lighting. This step relay is particularly suited to complex multi-point installations.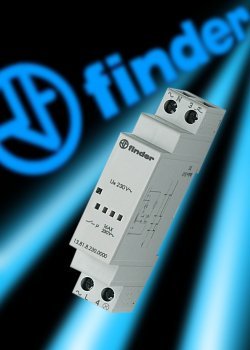 The desire for more sophisticated and flexible control of lighting, coupled with the need to reduce material and installation costs, is influencing consultants, designers and installers of lighting control systems to consider using electronic relays, especially for applications where quieter operation than that of conventional electromechanical step relays is desired. They will be able to use the 13.81 electronic step relay in locations that have multiple entry points, or in large areas where a number of switching positions are required for the control of lighting. The unit will be of particular interest to lighting designers who wish to achieve easy central control of multiple light fittings.
The 13.81 allows the connection of up to 15 illuminated push buttons, to enable multiple switching points to be served with a minimum of wiring, and is capable of switching up to 3kW of incandescent or halogen lamp loads. Indirect control of lighting – isolated from the AC mains – means that lighter gauge wiring can be used between pushbutton and relay, while electronic operation is much quieter than conventional electromechanical switching and offers a longer life. The cable run between the pushbuttons and the relay can be up to 200m in length, providing flexibility of mounting location, especially in large areas such as warehouses and factories.
The 13.81 is housed in a compact 17.5mm wide enclosure for 35mm DIN rail mounting, and is suitable for consumer units.
Enquiry Form: http://www.epreston.co.uk/enquiries.php
Home Page: http://www.epreston.co.uk/epblog/