The new padlock device M800 complies with all requirements of the IEC and in combination with an additional padlock device mounted on the switch itself also with UL508A.
The new padlock device convince by its simple and robust design while featuring a compact unit. 
  
Padlock device M800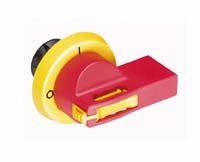 The main features are:
   
• Single hole mounting with integrated door clutch.    
• IP66/67 protection degree.    
• Applicable for all cam switches of size S1 and S2 and KG41B, KG64B, KG80, KG100, KG105, KG125-KG317.    
• Door interlock in the OFF-Position while a padlock is fitted and also in the ON-position.    
• The door can be open in the non locked OFF-position, only.    
• Override Function in the ON-position.  The door clutch may be opened only if the witch is in the OFF-position. In special cases, however, authorized people have a requirement to open the door, even if the switch is in the ON-position.    
• Accepted Misalignment: ± 3mm horizontally, ±5mm vertically.    
• Maximum 3 padlocks with a minimum shackle diameter Ø 5 – 8 mm.
Enquiry Form: http://www.epreston.co.uk/enquiries.php
Home Page: http://www.epreston.co.uk/epblog/