Finder has announced an update to its 80 series timers, which now provide improvements in functionality, multiple supply voltages, a wide choice of time ranges and greater ease of use.
The 80 series timers find uses in applications that include process timing, material handling, access technology, and industrial equipment such as elevators, environmental, washing and shot blasting equipment. Additionally they are used by OEMS for functional timing in mobile, portable and battery powered equipment and testers.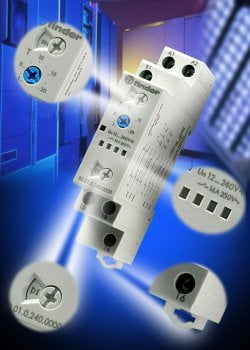 In the latest version of the 80 series timers, the range and function selectors, the timing trimmer and the rail mounting clip have all been modified to accept either cross head or flat blade screwdrivers, allowing for easier setting and mounting. Snap-on marker tags are now mounted on the front of the timers, which can be sheet printed automatically for speed and clarity. The start signal can now also switch a separate load, giving the possibility of reducing the need for additional components
The time range scale can now be changed without the need to remove the power supply, allowing greater flexibility for timing adjustment without any disruption of the circuit.
The 80 series timers are housed in compact packages measuring only 17.5mm wide by 57mm high. All timers in the range are now multi-voltage, which means that fewer variants need to be stocked. The timers run from either 12V to 240V AC or DC – for the multi function and recycler versions – or 24V to 240V AC/DC for all other variants. The 12V to 240V type is suitable for use in battery-powered systems.
Enquiry Form: http://www.epreston.co.uk/enquiries.php
Home Page: http://www.epreston.co.uk/epblog/