FMBD EP 3-Phase Mains Filter
• Compact design with minimal footprint
• Double-stage filter with high attenuation
• Variants for high voltage applications
• Wide temperature range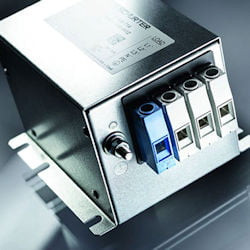 Schurter introduces the FMBD EP double-stage flagship filter family for 3 phases with neutral line systems. Thanks to its particularly compact dimensions and high performance, the new filter series is ideally suited for the tight space conditions in today's machine and industrial plant construction. Versions with high nominal voltages make a wide field of applications possible.
Space is a scarce commodity in control cabinets for industrial applications in the 3-phase range. Schurter has addressed this problem with another completely new filter design, which is much more compact than previous generations. The new, almost cuboidal design makes optimum use of the space in the housing. Thanks to a double-stage filter and the use of the highest quality components (generously dimensioned film capacitors, chokes with highly permeable cores), the new development shines with exceptional broadband filter attenuation.
Suitable for High EMC Emissions
The double-stage filter family is therefore also appropriate for applications with particularly high EMC emissions, as is frequently encountered in industry. Typical applications include machines and systems for automatic production, motor drives and industrial plant machinery. These powerful filters are also the first choice for modern frequency inverters for motor control.
Mounting
The FMBD EP series features screw terminals for absolutely safe wiring. Thanks to the metal flange, an excellent earth connection is ensured when screwed to the chassis.
Wide Temperature and Voltage Range
The standard types can be used over a wide temperature range from -40 °C to 100 °C. The filters are designed for currents from 16 A to 230 A at an ambient temperature of 50 °C. They have both ENEC and cURus approval for applications up to 520 VAC and ENEC and UR approval for applications up to 760 VAC.
Leakage Current
The standard versions are designed for industrial applications with leakage currents of <9.4 mA. Special variants with leakage currents of <2.5 mA are available for critical applications.
The completely redesigned FMBD EP models are the ideal replacement for all types of SCHURTER FMBD and FMBD NEO filters. They offer at least identical performance with significantly reduced dimensions and weight.
Enquiry Form: http://www.epreston.co.uk/contact/
Home Page: http://www.epreston.co.uk/epblog/