Industrial Wireless Temperature Transducer – 1/4″NPT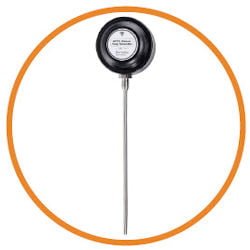 The IWTTU Wireless Temperature Transducer is a cost effective replacement to a traditionally wired temperature transducer that offers the advantages of a low-cost installation in inaccessible and expensive installation environments.
It is easily paired to Sensata Gateways or Receivers – thus offering a "plug and play" solution to your pressure measurement applications.
The instrument uses either J or K type thermocouples or 3-wire RTD sensors fitted to an acetal housing giving excellent media compatibility for the harshest of applications. Compression fittings are available which allow the head to be orientated in the required direction.
Each device is temperature compensated, calibrated and supplied with a traceable serial number.
Features:
• K or J Type Thermocouples
• PT100 RTD Sensors
• 6mm stainless steel sheath
• Up to 500 m line-of-site range (depending on receiver)
• Five year battery life at 10 second transmission update rate
• Simple DIL switch pairing with the single or five channel receiver
• Single, five and multi-channel channel receivers available (up to 128)
• User-selectable transmission update rates
• Analog, digital, RS-232/485, Ethernet & USB receiver outputs
• Receiver clean contacts provide process alarm functions
Applications:
• Simple cable replacement installation – dispense with expensive cable runs
• Environmental monitoring – pumping stations, sewage plants, water treatment
• Facilities management – boiler rooms, plant hydraulics, plant pneumatics
• Asset monitoring – tanks farms, process plants, HVAC and building management
• Service Contract – temporary installation for servicing and field trials
Enquiry Form: http://www.epreston.co.uk/contact/
Home Page: http://www.epreston.co.uk/epblog/