Schurter's new metal flange versions of types C20F, DC12 and KFA simplify assuring EMC compliance within metalized enclosures. The modules are suitable for mounting from the inner side of the panel, simplifying the assembling processes. The need for additional fixing nuts has also been eliminated by an optimized construction of the filter case. The electrical subassemblies, including the power supply, can now be completely tested before they are assembled into the appliance enclosure.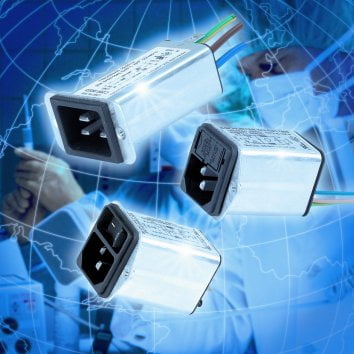 As with most Schurter modules there are a wealth of optional features such as stranded wire connections, illuminated switches and medical filter versions for use in appliances with indirect contact to patients. The C20F, DC12 and KFA ranges are approved according ENEC, UL and CSA. They are designed for appliances according IEC/EN 60950 respectively to be used in medical equipment according IEC 60601-1.
The metal flange ranges are ideal for use in sophisticated power supplies particularly for medical and measuring equipment. They are equally at home in IT equipment and other industrial appliances.
Enquiry Form: http://www.epreston.co.uk/enquiries.php
Home Page: http://www.epreston.co.uk/epblog/