Finder's 7H Series panel heaters are ideal components to prevent condensation and ensure the optimum temperature within electrical panels.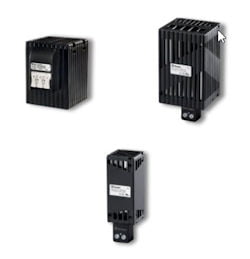 Imperative to increase temperatures within control panels to keep components operating efficiently, Finder's range of fan assisted panel heaters have heating power options from 25 – 50 – 100 – 150 – 250 and 400 W and a power supply of 230 V AC or 110…230 V AC/DC.
The 7H Series has fast wiring terminals, is vertically positioned within enclosures and is 35mm rail (EN 60715) mountable with a clip, saving installation time. The 7H Series panel heaters also have the smallest footprint in the market, taking up minimal space inside enclosures.
The 7H Series has an aluminium profile encased in a plastic housing making it safe to touch, preventing any injuries with contact. The operating temperature of the panel heaters is -40…+50°C, keeping vital components at the perfect temperature to run smoothly. The heaters also have a PTC self-regulating heating system. PTC heaters draw maximum power when cold to provide rapid heating to the optimum temperature. Being self-regulating, as the temperature increases, the power consumption simultaneously drops. Installing the 7H Series with a 7T Series thermostat creates a dynamic heating system that is not only effective in preventing condensation, but also time and energy efficient.
Finder's panel heaters are suitable for drying kilns, hoists & cranes, plastic moulding machines, automatic car washes, forced air ventilators and many more applications. The 7H Series in conjunction with Finder's 7T Series panel thermo hygrostats and thermostats, 7F Series filter fans and 7L Series LED panel lights ensures a high-quality thermoregulation system working at peak performance for all applications.
Enquiry Form: http://www.epreston.co.uk/contact/
Home Page: http://www.epreston.co.uk/epblog/