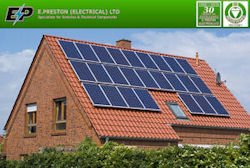 E. Preston Electrical is a Specialist Distributor of Electrical Components. With over 30 years of experience in the distribution industry our expertise allows us to meet the high demands of changing business needs. We offer the complete range of Solar PV Components from some of the world's leading manufacturers, including Solar Panels, Inverters and Isolators, etc.
E Preston Electrical is an independent distribution company. Our Solar products can be bought separately or as part of a complete Solar kit. Products have been carefully chosen because of their quality, availability and price.
Kits are available for the following systems: 1.5kW, 2kW, 2.8kW and 4kW.  Each kit includes solar panels, inverter, generation meter, AC & DC isolators, cables, connectors and roof mounting fixings and rail.
*  MCS Approved Solar Panels
*  25 Year Performance Guarantee for Solar Panels
*  G83 Approved Inverters
*  5 Year (Extendable) Product Warranty for Inverters
Harness Solar Energy for Your Home
Solar PV utilises energy from the sun to generate zero carbon, free electricity. It relies on daylight to generate power through the use of photovoltaic cells within roof-mounted modules. Electricity produced from Solar PV has a very high efficiency of around 95%, compared to electricity generated from traditional fossil fuels which have overall efficiency of less than 40%.
The electricity produced by a Solar PV system can drive any appliance that is powered by electricity. An inverter converts the DC current into usable AC current that can be used as power. Any surplus electricity produced can be sold back to the National Grid.
Electricity requirements vary depending on the size of your house and how energy-efficient the building and appliances are. With a Solar PV system you will be able to reduce electricity bills because the system will supply some or all of your power rather than mains electricity.
Key Features
*  Complete Solar PV kits available, starting from 1.5kW outputs
*  MCS Approved products
*  Feed-in Tariff's guaranteed by the government for 25 years
*  Energy saving, environmentally friendly free solar electricity
*  High efficiency monocrystalline and polycrystalline modules in 180W and 220W outputs
*  Minimal system maintenance required
*  Module mounting systems include on-roof, in-roof and flat-roof kits, both portrait and landscape
*  Reliable technology with a performance guarantee of up to 25 years
.
Enquiry Form: http://www.epreston.co.uk/enquiries.php
Home Page: http://www.epreston.co.uk/epblog/