PS product range offers varied applications thanks to modular design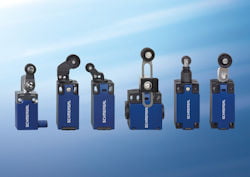 The Schmersal Group launches a new generation of position switches. The benefits for the user: The new PS product range offers varied applications, as all the position switches can be used both as complete devices and as modular units.
Type 1 position switches in line with ISO 14119 are for the position detection and monitoring of moving parts on machinery and plants as well as for lateral or pivotable protection equipment. The new range is suitable for a wide range of applications across all individual disciplines of machine and plant engineering – both for automation and safety applications and for lift engineering. The protection types IP66 or IP67 create the prerequisites for using the position switch in unfavourable environmental conditions.
Fewer variants – more flexibility
The modular design of the PS range with consistent components across all models reduces the number of variants, reduces storage costs and increases availability. All the position switches in the PS116, PS2xx and PS3xx ranges available within the modular system can be chosen both as complete switches with actuating element or as basic switches. Depending on the application, the basic switches can be combined with the necessary actuating element, which can be selected from a range of possible versions. This achieves the greatest possible flexibility in application and at the same time reduces the number of different switches available.
All actuating elements can be rotated in 45° increments, allowing adjustment to the defined direction of motion at any time. The connection terminals are also rotated around 45°, which makes connection easier and significantly reduces installation times. Switching elements with up to three contacts guarantee a redundant shutdown with an additional signal contact.
Enquiry Form: http://www.epreston.co.uk/contact/
Home Page: http://www.epreston.co.uk/epblog/