The Most Durable Power Relay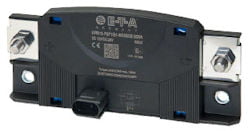 The EPR10 electronic power relay is a solid state relay for high continuous currents.  It is suitable for use in utility vehicles and special vehicles where reliability and functional safety are at a premium.  The EPR10 allows a continuous load up to 200A at DC 12V and 24V.  It is therefore particularly suitable for the use with powerful loads which have to be switched frequently.
The EPR10 Electronic Power Relay is Available in Two Different Versions:
• The EPR10-N is a switching relay with a long life span thanks to arc-free switching operations.
• The EPR10-P additionally features a protective function for monitoring of the charging current.
Benefits:
• Maximum life span and minimum maintenance through wear-free switching
• Tremendous space-savings through a flat design with a sophisticated heat management without additional heat sink
• Flexible use due to silent switching – also suitable for installation in the passenger cabin
Technical Data:
• Voltage Ratings:  DC 12V / DC 24V
• Max. Continuous Current:  EPR10-N 100A or 200A
• Current Ratings:  EPR10-P with protective function, 75A, 100A, 125A, 150A, 175A, 200A
• Protective Function:  3 trip curves:  fast, medium delay, long delay
• Degree of Protection:  IP57
• Ambient Temperature:  -40 °C … +85 °C
Standards:
• ISO 16750
• IATF 16949
• ECE R118
• ECE R10
• ASIL upon request
Typical Applications:
• Emergency cars and special vehicles such as ambulances or aircraft towers
• Pumps, fans, cooling systems
Enquiry Form: http://www.epreston.co.uk/contact/
Home Page: http://www.epreston.co.uk/epblog/