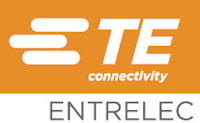 Push-In Technology: Connection Capacity: from 0.5 to 2.5 mm² – 22 to 12 AWG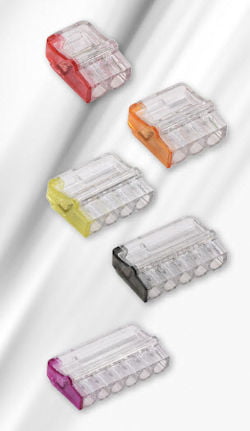 The Entrelec push-in connectors are perfect for all indoor applications. The push-in technology reduces the connection time and the compact design ease the installation in tight spaces. The connectors are compatible with 0.5 to 2.5 mm² (22 to 12 AWG) solid wires and the clear body provides visual control of the termination. The color-coding ease the identification of the 5 products sizes, from 2 to 6 positions.
SPEED UP YOUR PROJECTS
Push-In Connection:
• Save 50% installation time compare to screw technology.
• Easy and quick insertion for rigid and solid wires.
Compact Design:
• Fit perfectly in very tight spaces, ideal for all junction boxes.
Easy Identification:
• Find the right connector size quickly thanks to the color coding.
SECURED INSTALLATION
Visual Control:
• Transparent housing to verify proper conductor insertion.
Easy Testing:
• Easy factory or field control with the test slot for voltage testing.
Always Perfect:
• Stripping guide at the back of all connectors to respect the 11 mm / 0.43 in for each wire.
FOR ALL YOUR NEEDS
Up to 6 Wires Connected Together:
• Connectors available with 2, 3, 4, 5 and 6 connections.
Large Wire Size Range:
• Connection capacity from 0.5 to 2.5 mm² (22 to 12 AWG) for rigid and solid wire only.
Extreme Conditions:
• Resist to a high ambient temperature. Polycarbonate, flame retardant (UL94-V0).
PRODUCT COMPLIANCE / APPROVALS
• IEC 60998-1 & IEC 60998-2-2
• UL 486C
• CSA C22.2 No. 188-13
Enquiry Form: http://www.epreston.co.uk/contact/
Home Page: http://www.epreston.co.uk/epblog/