Limit switches indicate valves position to control water flow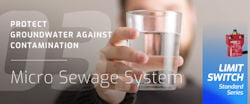 Safe drinking-water, sanitation and hygiene are crucial to human health and well-being. Safe water is not only a prerequisite to health, but contributes to livelihoods, school attendance and helps create healthy, resilient communities.
Micro sewage systems protect groundwater against wastewater contamination in living areas isolated from public sewage infrastructures.
Enquiry Form: http://www.epreston.co.uk/contact/
Home Page: http://www.epreston.co.uk/epblog/