Finder's sleekly designed 7F Series cooling fans and filters are essential components for reducing heat within the panel, ensuring the performance of components and instrumentation within control panels and enclosures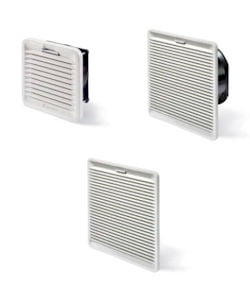 Vital for control panels to cool increasing ambient temperatures between -15…+75°C, Finder's 7F Series keeps internal devices working at optimal levels, while also preventing dusty or contaminated air from entering the panel, allowing for smooth operating systems. Reverse flow versions are also available.
With its slim construction and wide range of sizes, the 7F can slip into some of the most compact of panels and takes minimal depth within the enclosure, offering a time-saving installation and maintenance for installers. New size 4 filter fans are available with 250 and 400 m3/h.
Available in 24V DC, 120 and 230V AC (50/60 Hz), Finder's cooling fans and filters offer a flexible, reliable and competitive range, along with Finder's premium quality reputation. The 7F Serie's air volume is (24…400)m3 /h (free flow) with air volume (14…270)m3 /h (with Exhaust Filter installed in cabinet).
Finder's 7F Series also has a replaceable G3 rated filter mat which can be removed quickly and tool free. The size of the Exhaust Filter should match the size of the Filter Fan to achieve the best ventilation within the cabinet. Safety is ensured with the filter mats with a DIN F1 fire rating and other plastics comply with UL 94 v-0.
Enquiry Form: http://www.epreston.co.uk/contact/
Home Page: http://www.epreston.co.uk/epblog/