New Rear Cover Series for Schurter Power Entry Modules, Appliance Plugs and Sockets
• Silicone rubber for a better fit
• with high flame protection class UL94 V-0
• Temperature resistant up to 150 °C
• Halogen free and RoHS, China RoHS as well as REACH compliant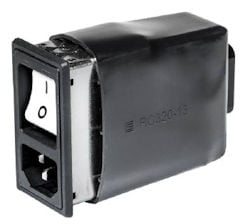 Schurter has a long tradition in the development of Power Entry Modules (PEM) with and without filters, appliance plugs and appliance sockets. The range of available models is equally wide. PEMs are space-saving, very convenient and extremely versatile. With the new halogen free protective rear covers of the RC320 series SCHURTER now launches another useful accessory.
The benefits of the versatile PEMs, Inlets and Outlets are apparent when you browse through the range of features: IEC appliance in-/outlet, with or without fuse, EMC filter, illuminated or non-illuminated power
switch, appliance circuit breaker, etc. etc. Almost every important device protection function can be accommodated in these compact modules.
Rear Covers RC320, Better Fit, High Flame Protection and Environmentally Friendly
The new RC320 rear protective covers are made of flame-retardant silicone rubber (flame class UL94 V0). This flexible and durable material ensures an excellent fit and is temperature resistant up to 150 °C. It is free of halogens and RoHS, CCC RoHS and REACH compliant.
Rear Protection
PEMs, appliance Inlets and Outlets are open to the rear. The new RC320 Rear Covers protect against unintentional contact with live terminals. In addition, they shelter the PEM against dust and other contaminants, which benefits the service life of the component.
Professional Internal Device Design
There is the approach just simply to use the best of the best. In high-end sectors, not only the exterior but also the internal design must meet high standards. The RC320 rear covers from SCHURTER are a welcome addition for professional internal device designs.
Enquiry Form: http://www.epreston.co.uk/contact/
Home Page: http://www.epreston.co.uk/epblog/