Single Phase Block Filter with Excellent Performance
• Ultra compact double stage filter
• Excellent symmetrical and asymmetrical attenuation
• Very broad band attenuation
• Completely closed steel housing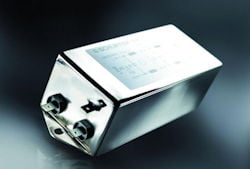 Schurter completes its portfolio of ultra-compact single-phase filters with a new generation of particularly high-performance thanks to a double stage filter design. FMBB EP is the name of the latest member in the completely closed steel housing.
Ever more powerful and at the same time ever more compact design – these are the requirements for state-of-the-art electronic devices. The filters of the FMBB EP family are particularly suitable wherever such equipment is confronted with stubbornly high EMI interference signals. Highly clocked semiconductors generate increasingly strong interference frequencies. This massively increases the requirements for compliance with EMC. Typical applications include test and measurement equipment, professional kitchen equipment, medical and critical industrial applications.
Identical Housing Dimensions
The new filters use the same housings as the proven FMBB NEO filter series. These housings are spot welded, thus completely closed, resulting in significantly improved attenuation behavior. Thanks to topquality components (generously dimensioned film capacitors, chokes with highly permeable cores), an exceptionally broad-band attenuation is achieved.
Mounting
The FMBB EP filter series has 6.3 x 0.8 mm plug-in connections or threaded connections for quick and easy wiring. Thanks to a metal flange, excellent ground connection is ensured when screwed to the chassis.
Wide Temperature Range
The standard versions can be used over a temperature range from -40 °C to 100 °C. The filters are designed for currents from 1 A to 36 A at an ambient temperature of 40 °C. They have ENEC and cURus approval and are recommended for applications up to max. 250 VAC.
Leakage Current
There are versions with different leakage currents available for different applications: the standard version with 0.9 mA to 3.8 mA, for medical technology ≤ 5 µA or ≤ 80 µA.
Enquiry Form: http://www.epreston.co.uk/contact/
Home Page: http://www.epreston.co.uk/epblog/