Mains Filter: 3-Phase plus Neutral Line
• Compact Single-Stage Filter
• Various Filter Variants Available
• Light Weight Design, Wide Temperature Range
• "High Performance" Versions Available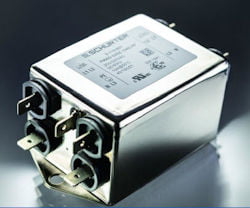 FMAD CP is the name of the latest 1-stage filter family for 3-phase systems with neutral conductor. Thanks to their extremely compact dimensions and high performance, the new filters are ideally suited to the tight space conditions in today's machine and equipment construction. An extended temperature range means that they can also be used in critical applications.
The new filter family is ideally suited for devices with high EMC exposure at low or medium power. Typical applications include converters for photovoltaics, battery storage or charging stations for electric vehicles. These powerful, particularly compact filters are also the first choice for modern frequency inverters for motor control.
Mounting
The FMAD CP filter series has 6.3 x 0.8 mm plug-in connectors for quick and easy wiring. Thanks to a metal flange, a good earth connection is guaranteed when screwed to the chassis.
Wide Temperature Range
The standard versions can be used over a temperature range of -40 °C to 100 °C. The filters are designed for currents from 3 A to 20 A at an ambient temperature of 50 °C. They have ENEC and cURus approval and are recommended for applications up to max. 520 VAC.
Leakage Current
Versions with different leakage currents are available for various applications: for industrial ≤ 3 mA, standard ≤ 0.5 mA and for medical technology ≤ 5 µA.
"High Performance" Version
Although the new filter family is already equipped with very high-quality components, an even stronger filter effect might be required for particularly demanding applications. This is where the "High Performance" versions come into play. Thanks to compact chokes with particularly high inductance and a larger X capacitor, both symmetrical and asymmetrical interference can be suppressed even more effectively.
The completely newly developed FMAD CP filters are the ideal replacement for the SCHURTER FMW465, offering at least the same, but rather higher performance at lower weight.
Enquiry Form: http://www.epreston.co.uk/contact/
Home Page: http://www.epreston.co.uk/epblog/