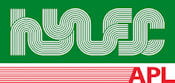 The first 5 pole screwless in line junction box on the market with 5 approved 32A lever connectors; supplied with all components for completely tool-free faster installation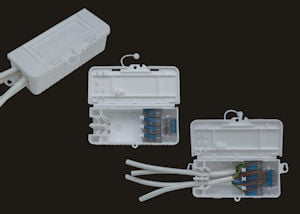 Hylec-APL, the specialist supplier of electrical components and enclosures, has announced the launch of Debox SL2, a completely tool-free in-line junction box which comes complete with five approved lever connectors. Debox SL2 is the smallest junction box with five poles on the market and the only product supplied complete with 5 screw free terminals: each individual 32A lever connector can take up to three conductors. Debox SL2 saves professional electrical contractors valuable time and makes installation easier for smaller and larger internal wiring jobs, as everything needed is supplied with the box and there is no need to use a screwdriver to securely join wires. Thanks to its design, Debox SL2 ends the frustration of dropping tiny screws on the floor, which then have to be retrieved, or not having required components on hand.
A first to the market from Hylec, Debox SL2 is a registered design and suitable for joining either flat or round profile cable with a minimum conductor size of 0.5mm and a maximum of 2.5mm. It is simple to use – after inserting cables and closing the levers, the lid of the box is simply snapped shut and secured with the butterfly clip supplied. To enable the Debox SL2 to be re-opened requires a tool, which complies with current regulations.
Safety is always paramount for electrical components and the Debox range, including the new Debox SL2, is flame retardant to UL940V 0 and conforms to the EN60598-1 (13.2.2) Glow Wire Test. Debox SL2 measures a compact 116mm x 45mm x 33mm and is manufactured from white polypropylene. With a temperature rating of -20degC to +85degC, it is maintenance free and suitable for all internal applications.
Debox SL2 joins the other highly successful Debox in-line junction box products, Debox SL and Debox S. Debox SL, which has four lever connectors, was the first 100% tool less / screwless in line junction box available on the UK market and has since sold in the millions of units.
Enquiry Form: http://www.epreston.co.uk/contact/
Home Page: http://www.epreston.co.uk/epblog/