Eaton offers a full field-proven line of rockers designed for excellence in any vehicle applications. They enable you to maximize efficiency and increase machine uptime even in the most extreme environments.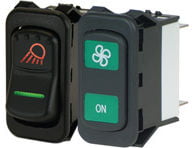 NGR
The NGR line of full-sized rocker switches, initially developed for the heavy truck industry, is now found in a variety of vehicle related applications. The standard actuator is a clean, European-styled, two-face rocker made of high-quality thermoplastic material.
The field-proven NGR offers both European styling and ergonomic design while providing the solid durability that you have come to expect from Eaton switches. Illuminated and non-illuminated versions with either incandescent bulbs or LEDs are available in a variety of popular switching circuits. The NGR also offers a variety of rocker buttons and indicators with laser-etched or pad-printed icons, insertable lenses and adhesive-backed labels.
Features
• Standard switch provides splash and dust resistance to IP42, while the sealed version is sealed to IP67 when supplied with panel seal.
• Backlighting technique allows for the legend to appear daylight white or dead-front when non-illuminated, but will change color when illuminated depending on the back-lit color chosen.
• Two legend areas on the ends of each rocker of sufficient size easily accommodate two lines of four Helvetica Narrow 12-point characters.
• Rocker snaps on and off the switch, making it easily replaceable.
Options
• Colored rockers, mounting bezels and lenses
• Common lamp ground jumper
• Custom back-lit legends
• Dry circuit capabilities
• Gang mounting system
• Locking rocker
• Maintained and Momentary Action Circuits
• Multiple LEDs
• Pad-printed legends
• Polarized lock-on connectors
• Reversing jumpers
• Special lamps and lamp voltages
• Special ratings
Enquiry Form: http://www.epreston.co.uk/contact/
Home Page: http://www.epreston.co.uk/epblog/