• New nickel plated steel case
• Complete closed housing
• Extended climatic category 40/100/21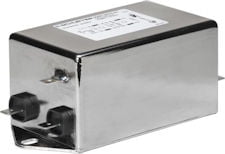 The successful 1 phase filter series FMBB NEO has been redesigned. The new shiny filter housing is made of nickel plated steel and complete enclosed. This ensures better contact with the equipment chassis. With an extended temperature range of -40 up to 100°C the filters can now be used for application with extra low temperatures.
Characteristics
• Designed for current applications of 1 – 36 A
• Protection against interference voltage from the mains
• Possible interferences generated in the equipment are strongly attenuated
• Especially designed for industrial applications such as: Frequency Converters, Stepper Motor Drives, UPS-Systems, Inverters
• Suitable for use in equipment according to IEC/UL 60950
• Suitable for use in medical equipment according to IEC/UL 60601-1
Enquiry Form: http://www.epreston.co.uk/contact/
Home Page: http://www.epreston.co.uk/epblog/