* Integrated light pipes for status indication
* IDC terminals for quick assembly
* V-Lock cord retention
* Color coding for easy identification in multiphase systems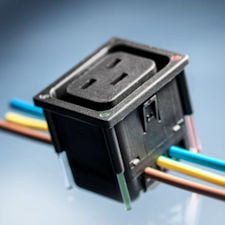 With the appliance outlets of the 4710-5 series, SCHURTER launches the logical evolutionary step to the successful 4710 – with a clear plus in functionality for status indication.
The new 16 A appliance outlet series 4710-5 offers precisely fitted, integrated guides for light pipes. Up to four light pipes can be used to channel LED light from the circuit board. The feature provides a space and cost saving approach to status indication in PDUs, which are used to signal the equipment technician regarding system status. The operation of the LEDs is freely configurable. To ensure proper application, the light pipes must be ordered as an accessory and should only be inserted into the power distribution unit after the sockets have been mounted and wired.
The use of IDC terminals is particularly efficient. Several outlets can be wired quickly and reliably in a single process step. This highly efficient form of wiring significant reduces assembly time and cost. For individual power supply and status indication, the phase contact is designed as a PCB connection. On request, this terminal can also be offered as quick connect or solder terminal. SCHURTER offers the 4710-5 outlets in black, white and grey for multiphase distinction.
The 4710-5 series is available in two versions: "along" and "cross" to the pin axis. Selection depends on the design of the PDU and the arrangement of the outlets, vertically (along) or horizontally (cross) one behind the other, thereby properly orienting the wires to the direction of the strip. To avoid unintentional power cord disconnection, the new outlets offer the V-Lock cord retention system. The snap-in mounting of the 4710-5 is designed for panel thicknesses of 1.0 to 3.0 mm. Standard versions are available in 1.5 and 2.0 mm.
Technical Data / Approvals
* Appliance outlet Type J (C19) acc. IEC 60320
* IEC/EN 16 A / 250 VAC; 50 Hz
* UL/CSA 20 A / 250 VAC; 60 Hz
* IDC-Terminals for cross sections 10 AWG/6.0 mm2, 12 AWG/4.0 mm2, 2.5 mm2
* Wire arrangement "Cross" and "Along" to the outlet contacts
* Snap-in mounting for panel thickness from 1.0 to 3.0 mm
* IP Protection: From front IP 20 acc. IEC 60529
* Insulation protection class I acc. IEC 61140
Application
With its unprecedented functionality and compact design, the new appliance outlet 4710-5 is optimal for intelligent appliances with multiple outlets, such as intelligent PDUs and UPSs used in data centers.
Enquiry Form: http://www.epreston.co.uk/contact/
Home Page: http://www.epreston.co.uk/epblog/