* Elevated IP protection from IP40 up to IP67
* Recessed rocker prevents accidental manipulation
* Wide range of mounting options
* V-Lock cord retention
With the DG11, Schurter launches a variably mountable IEC appliance inlet with integrated device protection switch TA35 for a variety of applications requiring, among other things, increased IP protection.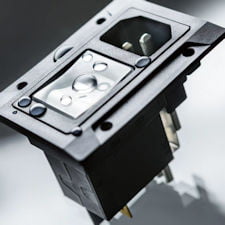 The DG11 represents a logical evolution of the proven and widely used Schurter 6135 power entry module. It combines the advantages of the already introduced DF11 with a particularly compact design.
Wide Range of Mounting Options
The new DG11 is available for almost every mounting variant with snap or screw mounting. The latter can be done in front mount or rear mount version. In addition, holes for the screws are available in either a vertical or horizontal arrangement.
TA35: Wide Assortment
The DG11 includes a 2 pole TA35 circuit breaker which provides the function of a device switch as well as thermal overcurrent protection. The thermal overprotection can be done with bimetal mechanism for only one or two poles and is available in finely graduated rated currents from 0.05 A to   16 A. The rocker switch is available illuminated or unilluminated in a variety of colors and markings.
IP Protection
In addition to the IP40 protection in all versions, the DG11 is available in a version with IP67 opposite the device. The use of the device in harsh dust or splash water environments is ensured by a protective cover for the circuit breaker as well as sealing beads and four sealing screws for tight fastening of the base.
Cord Retention
The V-Lock cord retention system can be plugged in to IEC 60320 at 10 A and 16 A. With the V-Lock system the power connector is equipped with a latch that interlocks with a special notch in the inlet and thus reliably prevents the cord from being pulled out.
Technical Data / Approvals
* Ratings IEC/CCC 10 A / 250 VAC; 50 Hz
* Ratings UL/CSA 15 A / 250 VAC; 60 Hz
* Dielectric Strength
> 2.5 kVAC between L-N (1 min/50 Hz)
> 3 kVAC between L/N-PE (1 min/50 Hz)
* Allowable Operating Temperature: -25 °C to 60 °C
* Suitable for appliances with the protection class I or II acc. IEC 61140
* Terminals: Quick Connect 6.3 x 0.8 mm
* IP Protection from front: IP40 or IP67 acc. IEC 60529
* Snap in mount for panel thickness from 1.0 up to 3.0 mm
* Screw on mounting for IP40 variants excludes screws and nuts (recommended torque 0.25 Nm)
* Screw on mounting for IP67 variants include sealing special screws. Screw nuts are not included (recommended torque 0.25 Nm)
Applications
Witch thempact form factor and the broad functionality, the DG11 is ideal various industrial appliances. Specially well suited are appliances for medical or laboratory use, such as shaking water baths ultrasonic cleaners, overhead stirrers and many more. Here the variant with IP67 is specially well suited, as it can cope with sterile environments.
Enquiry Form: http://www.epreston.co.uk/contact/
Home Page: http://www.epreston.co.uk/epblog/