* 10.1" PCAP Touchscreen with controller
* Multi-touch capability (10 fingers)
* Protected against moisture and EMI
* Incl. software and stylus pen
With the Engineering TouchKit, Schurter launches a professional tool in the form of a PCAP touchscreen for development engineers to experience the advantages of the projected-capacitive technology up close.
Schurter is a well-known, leading manufacturer of electronic components. In addition, Schurter also has the Input Systems division. Input Systems offers complete touchscreen solutions including displays, housings and electronics. Schurter has a wide range of industrial displays and standard touchscreens for HMI integration and can also manufacture its own, customer-specific PCAP sensors. The Engineering TouchKit is introduced to bring touchscreen capabilities closer to a wider audience.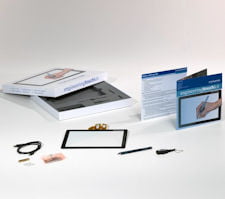 Engineering TouchKit
The Schurter Engineering TouchKit contains a plug-and-play 10.1″ PCAP touchscreen sensor with a SCHURTER controller based on an EETI chip. With the supplied software on the USB stick, the controller data can be analyzed and evaluated. This enables the development engineer to set up and perform tests with and without active stylus and to experience the extensive range of functions of the touchscreen.
The complete Schurter TouchKit gives the engineer the opportunity to familiarize himself with the latest projected capacitive touchscreen technology (PCAP).
Special Features
* The Engineering TouchKit is multi-touch capable: It detects the operation of up to 10 fingers simultaneously.
* Can be operated with a pen: The scope of delivery also includes a touchscreen stylus, which offers high accuracy and pressure measurement.
* Resistance to moisture: The touchscreen can be wet without detecting a wrong touch. The touch screen will continue to function at low humidity. The controller switches off the sensor in the event of large quantities of water.
* Palm rejection: The palm touch of the touch screen is not recognized as an operation or input.
* EMC resistance: If the touch controller has been correctly installed, it is immune to interference voltages in the form of wave fields up to 10 V/m or wired up to 10 Vrms.
Technical Data
– Touch Sensor: 10.1" PCAP Touch Sensor
– Touch Functions: up to 10 fingers simultaneously
– Controller: EETI EX3146
– Supported interfaces: USB, I2C on request
– Power supply: USB Port
– Operating temperature: -40 °C to +85 °C
Applications
– Industrial applications
– Vending or ticket machines
– Food sector
– Laboratory equipment
– Data & Communication
Enquiry Form: http://www.epreston.co.uk/contact/
Home Page: http://www.epreston.co.uk/epblog/