* Ultra-compact design
* Suitable for very high EMI disturbances
* Various mounting options
* V-Lock cord retaining option
* Fuseholder meets latest IEC standard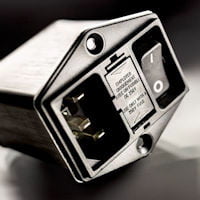 Today's electronic equipment is designed to deliver high performance in a compact size. Often this causes problems affecting the equipment itself or other nearby devices due to the inherent electro-magnetic interferences being generated in and between the different systems. To meet these EMC challenges, high performance power entry modules must also keep pace, and such is the case with the new DD14 series from SCHURTER. The DD14 series packs remarkable functionality into a new generation of compact power entry modules.
The new DD14 combines an IEC C14 appliance inlet with 2-pole switch and 2-pole fuseholder. EMC performance is further enhanced with a depth-saving 2-stage filter. Shielding is optimized by screwing the metal casing of the filter to the panel, using its horizontal or vertical flange. A snap-in filter version eliminates the flange, consuming even less panel space.
The DD14 integrates the EMC filter directly in line with the power input. The two-stage filter design suppresses interference voltages more effectively over a much broader frequency spectrum than single-stage filters, thereby having a positive effect on electro-magnetic compatibility. Standard and low-leakage medical filter options are available for use in commercial or facilities ICT equipment according to IEC 60950 and medical equipment according to IEC 60601-1. The series meets the new fuseholder requirements outlined in IEC 60127-6 for enhanced fire safety and is also suitable for use in home appliances according to IEC 60335-1. It is compatible with V-Lock retaining cordsets.
The DD14 is rated for current levels up to 10 A / 250 VAC according to IEC and 8 A 125/250 VAC according to UL / CSA. It is ENEC and cURus approved.
Enquiry Form: http://www.epreston.co.uk/contact/
Home Page: http://www.epreston.co.uk/epblog/