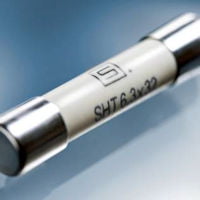 Schurter offers a robust, compact and cost-effective cartridge and pigtail fuse SHT 6.3×32 for high voltages and currents. The high breaking capacity up to 3500 A at a nominal voltage of 250 VAC opens the fields for applications for commercial electric cooking appliances in accordance with UL 197.
Schurter offers the SHT 6.3×32 in ten rated currents between 1 and 8 A. The high breaking capacity makes the fuse outstanding. In addition to a wide range of industrial applications the SHT 6.3×32 is particularly suitable for a large number of applications in electrical cooking appliances according to UL 197 standard for protection of 1- to 3-phase systems.
Schurter offers the SHT 6.3×32 as a fuse link and a pigtail version. Fuse links are suitable for mounting in clips and fuse holders, which makes it possible to quickly replace the fuse without soldering. SCHURTER offers the suitable clips (CQP, OG-Clip, OGD) and fuse holders (FEU FUS, FEC, FUL, FUA and FUP) for this purpose.
The most important competitor products are bigger in size (e.g. 10.3×38) and therefore more cost-intensive. That allows Schurter to offer the SHT 6.3×32 and SHT 6.3×32 Pigtail as a replacement product which will reduce size, weight and cost.
Technical Specifications
– High rated voltage of up to 500 VAC
– High breaking capacity of 3500 A @ 250 VAC / 1500 A @ 500 VAC
– Rated current range from 1 to 8 A
– Time lag characteristic T
– Ceramic housing
Application Areas
– Commercial electric cooking appliances according to UL 197
– Photovoltaics
– Frequency converters
– Power electronics
– 3-phase applications
Enquiry Form: http://www.epreston.co.uk/enquiries.php
Home Page: http://www.epreston.co.uk/epblog/