* Customer-specific time-current tripping characteristic as a function of ambient temperature
* Combination of protection against overcurrent and excessive ambient temperature
* On request qualified according to AEC-Q200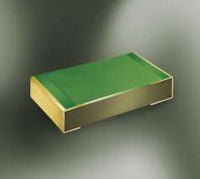 Schurter's USN 1206 offers a temperature-sensitive SMD fuse suitable for both overcurrent protection and protection against excessive ambient temperatures.
Due to the ever-increasing packing density in power electronics, it is becoming ever challenging to deal with the resulting tighter and hotter board real-estate. Automobile manufacturers increasingly use control units in their products, including power electronics (e.g. ABS modules, annealing time control units and actuators). The trend is to integrate as many functions as possible into the smallest possible space in a single module. The fact that such modules must be protected against overcurrent is self-evident. However, the increasing power density also entails thermal requirements. For this purpose, new approaches are needed to avoid a creeping risk of overheating.
Combination: Current and Temperature
The USN 1206 from SCHURTER is not a pure thermal fuse. It requires a current flow to blow, thus providing protection against overcurrent just as well as any conventional fuse. In addition, it is also designed to protect power semiconductors in automotive applications against over temperature. The fuse has a current-time characteristic which shifts as a function of the ambient temperature. As a result, a specific trigger at a certain threshold value can be achieved increasing temperature.
The USN 1206 from SCHURTER has high I2t values at 32 VDC and a slow blowing characteristic.
Reflow Solderable
The USN 1206 temperature-sensitive SMD fuse is reflowable at 245°C according to IEC 60068-2-58. The epoxy glass housing makes it tight against the potting compound. Thus, the fuse is also suitable for explosion-proof applications according to ATEX / IECEx.
Application Areas
The production and qualification of the fuse is carried out in agreement with the customer according to the requirement profile of the desired time-current trip characteristic as a function of the ambient temperature. The new Schurter USN 1206 is particularly suitable for automotive applications requiring the highest reliability under particularly difficult conditions (heat, vibration, mechanical and cyclic strength). In addition, it is also used wherever temperature-critical processes occur, or even when a specific intrinsic characteristic is required.
Technical Data / Approvals
– Certification and Qualification on Request (AEC-Q200, UL, IEC, MIL)
– Combination of protection against overcurrent and excessive ambient temperature
– Customer-specific time-current tripping characteristic / temperature
– High I2t values
– Rated current: 12 A (USN 1206 12 A , customer-specific)
– Rated voltage: 32 VDC
– Slow blowing characteristic
Applications
– In all electronics with temperature-critical components (eg Mosfet's)
– Automotive
– Intrinsically safe
Enquiry Form: http://www.epreston.co.uk/enquiries.php
Home Page: http://www.epreston.co.uk/epblog/