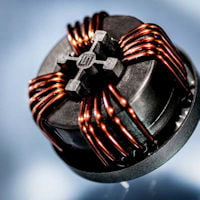 Schurter expands its wide range of current compensated chokes with new customer specific variants for 4-wire-applications on PCB. The new DKIH series is now available with ferrite or nanocrystalline ring core. The new product is designed for three phases plus neutral wire applications with rated currents from 10 A to 50 A. Due to its open design, the chokes are light weight and compact, ideally designed to suppress EMC noise caused by power applications on the PCB.
Like all other aspects of electronic design, the power portion is often built today using discrete components on printed circuit boards. With the trending integration of components, to achieve smaller and smaller form factors, thermal problems and high currents on the PCB can become a challenge. The resulting EMC interferences can affect adjacent modules because of the lack of spatial separation. Therefore, a compact filter on the circuit board with discrete components is often the best solution. A current-compensated choke with capacitors is the most efficient measure for the suppression of EMC interferences.
The DKIH-4 series is suitable for three phases AC and neutral wire applications from 10 A up to 50 A. The common mode chokes are also designed according IEC 60938 and are rated 600 VAC making them suitable for many applications such as UPS systems, switching power supplies, charge stations for electric vehicles and frequency converters for energy storage. The DKIH-4 has a wide temperature range of -40 °C to +100 °C. They are available with a standard pin configuration or customer specific ones. Variations in the winding are also available upon request.
Technical Data
– Rated voltage: 600 VAC
– Rated currents: 10 to 50 A at 40 °C
– Same dimensions and weight for ferrite and nanocrystalline versions
– customer specific pin outs available on request
Application
– Frequency converters for photovoltaic or energy storage
– Charge stations for electric vehicles
– UPS systems
– Switching power supplies
Enquiry Form: http://www.epreston.co.uk/enquiries.php
Home Page: http://www.epreston.co.uk/epblog/