The New and Inexpensive 2.5 A Appliance Inlet of the Type 2570 in Diverse Variants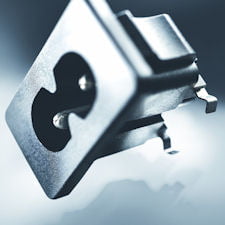 The appliance inlet series of the type 2570 by SCHURTER provides diverse mounting variants and terminal options. Because of its cost effective design and the wide range of approval certificates for Europe, America and Asia, is the C8 inlet best suited for both industrial and consumer appliances.
The appliance connector for snap-in mounting is available with solder-, quick connect- or PCB-terminals. The PCB-terminals in combination with the sandwich mount are specially for the application on printed circuit boards. This way the board can be fully equipped and tested before being mounted. The mounting is done by introducing the connector into the back wall, and placing the appliance housing into the groove on the inlet.
Thanks to the use of rolled contact pins, the variants with solder or PCB terminals are very inexpensive and therefore suitable for consumer goods. Nevertheless do they comply with all the security requirements and are approved by all the relevant international standards.
Technical Data / Approvals
*  Ratings IEC/CCC 2.5 A / 250 VAC; 50 Hz
*  Ratings UL/CSA 2.5 A / 250 VAC; 60 Hz
7 A / 125 VAC; 60 Hz
*  Operating Temperature from -25 °C to 70 °C
*  Variants for Sandwich- or Snap-in Mounting
*  Solder-, Quick Connect- or PCB- Terminals
Application
With the complete approvals for Europe, America and China, as well as the low sales price, the 2570 Series can be sold to all industries. The Variants are applicable in medical-, audio- and industrial equipment.
Enquiry Form: http://www.epreston.co.uk/enquiries.php
Home Page: http://www.epreston.co.uk/epblog/