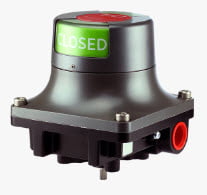 Valve Position Indicator, VPX Series switches are built for outdoor use in potentially hazardous and explosive atmospheres. The enclosure of all VPX Series switches are constructed to withstand the pressure of an internal explosion. Flame paths cool the exploded gases to a point lower than the ignition temperature of the surrounding gas. The VPX Series models equipped with inductive proximity switches are have Intrinsically Safe (IS) ratings. The VPX Series carries global approvals and certifications allowing it to be used in applications in hazardous locations the world over.
As part of their standard features, the VPX series switches are designed with a rugged die-cast aluminum housing. This housing is weather sealed for outdoor use and complies with NEMA 4X requirements for protection against corrosion.
Though the design utilizes o-ring seals to make the enclosure rain tight, the o-rings are outside of required flame paths allowing explosion proof requirements to be maintained. The VPX series offers many configurations of color and angle options for visual indication.
*  With numerous environmental ratings (Ingress Protection and NEMA), the VPX Series is protected for a wide range of outdoor conditions
*  VPX Series is certified flame-proof, explosion-proof and Intrinsically Safe (optional), thereby making the product safe for potentially hazardous area applications
Enquiry Form: http://www.epreston.co.uk/enquiries.php
Home Page: http://www.epreston.co.uk/epblog/