The Schaffner Group introduces ecosine evo, the new generation of passive harmonic filters with an evolutionary modular concept and unparalleled technology.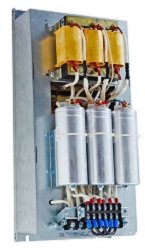 Schaffner, the international leader in the fields of electromagnetic compatibility and power quality, is again setting a benchmark with its product offering of harmonics mitigation solutions. Ecosine evo combine superior technology to reliably mitigate excessive harmonics with an evolutionary modular product concept.
The new ecosine filters FN 3440, FN 3450 and FN 3452 which are designed for three-phase diode and thyristor rectifier, are achieving a THID ≤ 5% even without DC-link choke included in the drive. They guarantee compliance with the toughest requirement of IEEE-519 and other stringent international power quality standards while being the most compact passive harmonic filters available in the market. The filters offer excellent performance at rated power with minimal reactive power, even at partial or no-load conditions. With the installation of the new ecosine filters, the electrical infrastructure is unburdened and its utilization is much more efficient and reliable. Furthermore, the service life cycle of electrical equipment is extended and energy costs are reduced.
Thanks to the modular concept, the filter design also offers great flexibility. It allows Schaffner to provide the optimal solution by merely "plugging in add-on modules", according to different installation requirements and motor drive setups. Thus utilizing the new Schaffner modular filters allows for the best tailored solutions for applications, aligning product offerings with the international market requirements and customer expectations.
Ecosine evo filters FN 3440, FN 3450 and FN 3452 are rated for 50 Hz/400 VAC, 50 Hz/500 VAC and 60 Hz/480 VAC grids, respectively, with standard power ratings available from 1.1 to 250 kW (1.5 to 300 HP for 60 Hz filters). They are available as open frame IP 00 and protection category IP 20 (IP 21 and NEMA 1/NEMA 3R (only in the US) as a future option). All filters are CE-marked, UL listed (pending) and RoHS compliant. The ecosine evo filters are easy to install and maintain and are be fully supported in Schaffner's well known power quality simulator SchaffnerPQS3.
Enquiry Form: http://www.epreston.co.uk/enquiries.php
Home Page: http://www.epreston.co.uk/epblog/