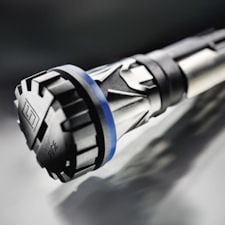 With the new FUS fuseholder, Schurter is building on its successful FUL series for high-performance applications and presents the first dust and water-proof fuseholder with ingress degree of protection IP67 especially for rough applications.  The snap-in fuseholder series guarantees fast and tool-free assembly.   The carrier is available in both versions with slot and fingergrip and can accommodate fuse sizes 5 x 20 mm or 6.3 x 32 mm.
Thanks to the high IP67 degree of dust and water protection, the FUS series fuseholders can be used wherever high-performance applications are exposed to potentially adverse environmental influences, such as outdoor applications or in the oil and chemical industry, marine, laboratories and mining. In addition, the FUS series fuseholders are also used where the highest ingress protection against liquid and particles is required, as for instance in medical and food production equipment.
Made of halogen-free plastic, the side metal snap brackets act as heat dissipaters and are designed for fast snap-in mounting. Wires are terminated with quick-connect or solder connections. The newly styled fuse carriers accept 5 x 20 mm or 6.3 x 32 mm fuses, and provide slot or fingergrip removal for fuse replacement.
The FUS series already complies with the increased glow-wire material requirements outlined in the new IEC 60127-6 and IEC 60335-1 standards developed for unattended devices in use.  The FUS fuseholders are characterized by a particularly high-quality design and a good price / performance ratio.
Technical Data
• Fuse holder according to IEC 60127-6 / UL 4248-1
• Rated specifications: IEC 16A @ 500 VAC (4 watt) / UL 32A @ 600 VAC / VDC
• Quick-connect connections 6.3 x 0.8 mm or solder connections
• Ambient temperature: -40 ° C to + 85 ° C
• Complies with the requirements of IEC 60335-1 for unattended devices in operation. This includes the stringent glow wire requirements according to IEC 60695-2-12 and -13
Applications
Equipment exposed to harsh industrial environments or the outdoors, measurement, laboratory and medical equipment, marine, dairy and food industries, robotics, controls in mining and underground.
Enquiry Form: http://www.epreston.co.uk/enquiries.php
Home Page: http://www.epreston.co.uk/epblog/