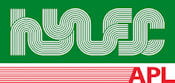 No tools required – wire up fast to save time on site.  Suits stranded and solid cables;
max current 32A, 450V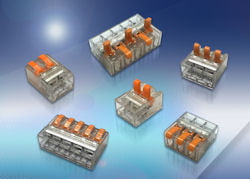 Hylec-APL, the specialist supplier of electrical components and enclosures, is introducing the new HYLK Kwik Lever connector.  The HYLK Kwik Lever range features a lever-spring action clamp and can be used with both stranded and solid cables with a maximum conductor size of 4mm, (AWG minimum 24, maximum 12), enabling professional installers to make really fast, simple and secure connections in seconds. There are no fiddly screws to tighten, the cable insulation is simply stripped to length, inserted into the Kwik Lever connector and once the spring lever is flipped, wires are securely and safely retained with even and constant pressure and no damage to the wire.  HYLK Kwik Lever connectors are reliable, competitively-priced and completely re-useable.  Suitable uses for the Kwik Lever range include lighting, power, heating & ventilation, and inside junction boxes.
The design of the Kwik Lever connector housing makes it easy to see that connections are in place correctly, while the levers overlap the end of the housing slightly for comfortable fingertip operation.  Checking the electrical connections is also quick and simple, as the connector housings have easily accessible testing points.   There are 2, 3 and 5-way single pole models in the HYLK Kwik Lever range to take 2, 3, 4, or 5 individual wires. These compact connectors measure only 9mm high x 18mm wide, and  12.4mm,  18.2mm,  or 24mm long depending on model, so are ideal for applications where space is constrained.   They are rated to 32A, maximum voltage 450V. The Kwik Lever range is CE and RoHS compliant and TUV, UL and cUL approved.
Enquiry Form: http://www.epreston.co.uk/enquiries.php
Home Page: http://www.epreston.co.uk/epblog/