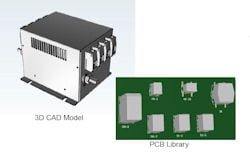 Schurter's website now offers 3D CAD Models for EMC Filters, along with PCB Libraries for Chokes and PCB-Filters.
Schurter has created 3D CAD models for its full range of 1- and 3-phase EMC filters. Each product model can be previewed in the web browser, and manipulated for viewing at all angles. The models are available for download in the most common formats of IGS, STEP and Parasolid for easy import into most CAD programs.
Also available for download are PCB libraries for all board mount chokes and filters. The libraries provide comprehensive design aids, with each library containing an electrical schematic, footprint and Altium Designer formatted 3D model. The Altium Designer is a commonly used 3D PCB editor for electronic design.
Enquiry Form: http://www.epreston.co.uk/enquiries.php
Home Page: http://www.epreston.co.uk/epblog/