Save Time and Costs with Eaton DC-Contactors
Clever Use of a Proven Technology
Thanks to the use of proven hybrid technology, the contacts in Eaton DC contactors have a long lifespan and low contact wear. Hybrid contactors feature two mechanical contacts – a extinguishing contact and a break contact – that are connected in series.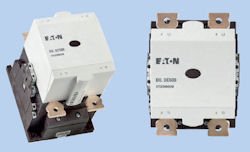 Moreover, they have an IGBT power semiconductor switch connected in parallel with the extinguishing contact. When one of these contactors is switched off, the first thing that happens is that the IGBT is switched on. After this, the extinguishing contact opens mechanically, commutating the current to the IGBT so that it can be interrupted by the power electronics. Finally, the break contact is opened in a de-energized state, achieving the required potential isolation.
Together with this configuration, a wide-range coil for DC and AC voltages makes our DC contactors a maintenance-free and reliable part of any machine or system.
Efficient and Compact
• With up to 150,000 operations, these units have a lifespan that is six times longer than that of comparable devices
• No maintenance costs, resulting in lower operating costs
• Lower switching contact wear as a result of extremely short arcing times
• Convenient to switch on and off: either conventionally or directly with a programmable logic controller (PLC)
• Compact frame size designed to save space
• Very short opening and closing times of main contacts
Reliable and Flexible
• Wide control voltage range of 110 V – 250 V AC, 110 V – 350 V DC
• Globally certified: UL, CSA, CCC, GL, DNV
• Bi-directional operation (polarity insensitivity) ensures ease of use
• Wide temperature range of -40 °C to +70 °C
Ideal for a Large Variety of Applications
• Solar power
• Rail traffic
• Marine & Offshore
• Energy storage
• Automotive charging infrastructure
• DC grids
Designed for Industrial Use
• Universal concept
• Fast and easy to install thanks to tried-and-true terminal types
• Based on Eaton's well-known contactor technology
Enquiry Form: http://www.epreston.co.uk/enquiries.php
Home Page: http://www.epreston.co.uk/epblog/