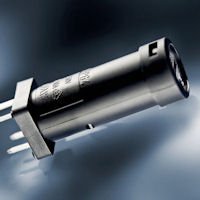 The fuseholder standard IEC/EN 60127-6 has been revised to improve fire safety. Effective in October 2017, manufacturers of fuseholders will only be permitted to market products that have been tested and authorized in accordance with the updated standard. Schurter will offer its customers upgraded solutions by the deadline.
Requirements defined for the household appliance standard IEC 60335-1 are also being applied to the fuseholder standard IEC 60127-6. So the requirement with regard to the glow-wire resistance of the material is being increased. Schurter has planed the adaption of the products and its requalifying
and is currently deploying it. That means used materials has to be tested and if necessary replaced with new glow-wire resistant material. Thus these components can be used in unattended electrical household appliances after the change-over.
Besides the fuseholders, IEC appliance inlets and power entry modules with and without EMC filters are also affected if they have a fuse drawer. The order number of the products are not touched. Therefore manufactures using Schurter products do not have to change the approvals.
Detailed information about the revised fuseholder standard and Schurters plan for implementation are available upon request.
Enquiry Form: http://www.epreston.co.uk/enquiries.php
Home Page: http://www.epreston.co.uk/epblog/