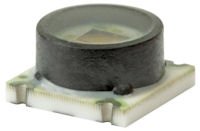 Honeywell is pleased to announce its new Basic Force Sensors, TBF Series—Honeywell's smallest force sensor. The TBF Series Basic Force Sensor extends Honeywell's Basic Pressure Sensor platform (TBP Series) into the flush diaphragm space previously occupied by Honeywell's 1865 Series Force Sensors. The TBF Series are flush diaphragm pressure sensors designed for customers who require a simple device for applications where media compatibility and low trapped volume are important. Precisely controlled diaphragm height makes the sensor useful in applications where force is applied by a flexible membrane to the sensor, such as infusion pumps.
Value To Customers
*  Smallest package size in its class (7 mm x 7 mm x 3,89 mm) simplifies placement on crowded PCBs
*  Widest pressure (1 bar to 10 bar |100 kPa to 1 MPa | 15 psi to 150 psi) enables choice of optimum pressure range to maximize sensitivity
*  Many different pressure ranges improve resolution and system accuracy
*  Tight accuracy specification of ±0.15 %FSS provides user with enhanced accuracy in the application
*  Reliable supply chain
*  Fast response for quotes and samples
*  Designed to Six Sigma standards
*  Manufacturing excellence
*  Supports Lean manufacturing
Features
*  Cost-effective sensor with many options
*  Compensated/unamplified
*  Wide operating temperature range (0 °C to 50 °C [32 °F to 122 °F])
*  Low power consumption allows for potential use in battery operated applications
*  Stable offset voltage
*  Not sensitive to mounting orientation
*  Small package size [7 mm x 7 mm x 3,89 mm]
*  RoHS2 compliance
Potential Medical Applications
*  Drug delivery systems
*  Infusion pumps
*  Kidney dialysis machines
*  Robotics
*  Syringe pumps
The TBF Series join the 1865 Series, FSG Series, FSS Series, FSS-SMT Series, and FSA Series.
Enquiry Form: http://www.epreston.co.uk/enquiries.php
Home Page: http://www.epreston.co.uk/epblog/