Power management company Eaton offers Dumeco DC switch-disconnectors to help solar PV equipment manufacturers and installers gain a competitive edge within the increasingly significant solar power market. These innovative products stand alone as cost-effective, reliable and safe solutions; they also integrate efficiently and easily with matched Eaton components into a continuous channel that transports energy safely from the solar module to the power grid.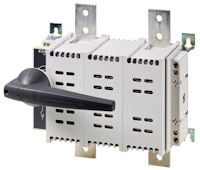 The DC switch-connectors are being made available in four frame sizes; the largest has 800 A, 1000 A and 1250 A options, while the smallest offers 63 A, 80 A and 100 A versions. Accordingly, the devices are suitable for applications ranging from residential and light commercial rooftop sites to large commercial and utility scale installations, as well as solar combiner box and inverter equipment.
This switchgear is available in 2-pole configurations that reduce the need for bridging links between the poles; this cuts installation time and copper costs. Bi-directional pole connection gives installation flexibility. The units' minimal footprint of up to 52 per cent smaller than any competing product allows installation space savings. An independent manual operating mechanism controls special self-cleaning roller contacts which provide long term safety and reliability.
Operation is through either a direct handle or an extension shaft of up to 600 mm and handle for thru-the-door interlocking. IP65-rated grey or red/yellow K Line handles are available, with both padlock and cylinder lock versions. Door interlocking configurations include a 'defeatable' option in the ON position for fault finding. An auxiliary switch set is also available; this offers 1NO+1NC contacts.
The Dumeco DC switch-connectors are rated to 1000 V DC, are compliant with standard EN-IEC 60947-3 and have CE, CCC, RoHS and EAC certifications. They offer high short circuit ratings and operate to utilization category DC-21B. The units are suitable for base plate mounting.
This new range of DC switch-connectors is built to handle the most demanding of PV applications, while providing reliable isolation to ensure safe operation within an installation. Perfectly aligned with the robust Dumeco AC switch-disconnectors, it enables an excellent all-round AC/DC package. The products offer an attractive solution to distributors, installers and manufacturers due to their competitive pricing, cost-saving features, proven reliability and compact, flexible design. They form part of Eaton's comprehensive global portfolio that serves the renewable energy segment.
Enquiry Form: http://www.epreston.co.uk/enquiries.php
Home Page: http://www.epreston.co.uk/epblog/