Seriesone DR Solid State Relays are Approved for Use in Hazardous Environment Installations TYpical in the Oil & Gas Industry
Crydom, a brand of Custom Sensors & Technologies, announces its Solid State Relay SeriesOne DR attains UL approval for both the ANSI/ISA & CSA Class I Division 2 requirements and ATEX 95 Equipment Directive 94/9/EC ratings for its 11 and 18 mm DIN Rail mounted AC and DC output Solid State Relays covering the range of 24 to 600 VAC or 1 to 100 VDC, at 3, 6 and 12 Amps.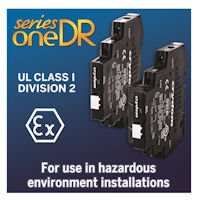 These ratings complement the SeriesOne DR Solid State Relays existing UL 508 ratings and European Union EMC and Low Voltage Directives and permit the SeriesOne DR relays to be utilized in hazardous environment installations or locations such as Oil & Gas exploration, refining and distribution, for the control of heating, lighting, motion, power and other electrical loads and functions in these challenging applications.
In addition to approval as Motor Controllers, Mechanically Operated and Solid-State under the Applicant's File E116949, the UL approval of the SeriesOne DR Solid State Relays now includes performance verification to the following specifications:
*  ANSI/ISA 12.12.01-2013, Nonincendive Electrical Equipment for Use in Class I and II, Division 2, and Class III, Division 1 and 2 Hazardous (Classified) Locations.
*  CSA C22.2 No. 213-M1987, Nonincendive Electrical Equipment for Use in Class I, Division 2 Hazardous Locations.
Furthermore, the SeriesOne DR has attained approval of the European Union ATEX 95 Directive 94/9/EC rev.23 March 1994, Annex II, Essential Health and Safety Requirements for Equipment Group (zone) 2, Category 3 intended for use in potentially explosive atmospheres. SeriesOne DR Relays also comply with EN 60079-0:2012+A11:2013 & EN 60079-15:2010 standards.
For complete details, specifications and technical assistance on SeriesOne DR relays or any of Crydom's extensive line of Solid State Relays, please contact your local Authorized Crydom Distributor.
Enquiry Form: http://www.epreston.co.uk/enquiries.php
Home Page: http://www.epreston.co.uk/epblog/