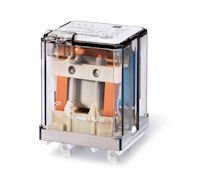 When the need to switch high DC currents exists, Finder's extended range of 62 Series relays now includes a Magnetic Blow-Out version, capable of switching loads as high as 12 A at 220 V DC.
Targeting the heavy-duty switching of contactors and large circuit breaker trip coils this version has been specially developed to offer a high performance product that is both smaller and more competitively priced than many other current offerings.
The new relays incorporate a powerful, rare-earth magnet, neodymium, which blows-out the electrical arc and breaks DC circuits more quickly and efficiently, allowing contacts to be rated at a higher DC current, whether resistive or inductive loads.
The 62 series range is now extended by these two high performance and cost effective versions—a single pole, double break version (62.31) and a two-pole, single break (62.32) version. Available in DC coil voltages from 6 to 24 V DC, these relays are rated for -40C – +70C environments.
Enquiry Form: http://www.epreston.co.uk/enquiries.php
Home Page: http://www.epreston.co.uk/epblog/