Honeywell Pressure Switches
High Pressure: HP Series, HE Series
Low Pressure: LP Series, LE Series
Honeywell Pressure Switches are durable, reliable electromechanical gauge pressure on/off switches that are available with either single pole single throw (SPST) normally open or normally closed circuitry, or single pole double throw (SPDT) circuitry. Their IP67 environmental sealing and high proof pressure and burst pressure ratings allow for use in many rugged applications that require the making or breaking of an electrical connection in response to a pressure change of the system media.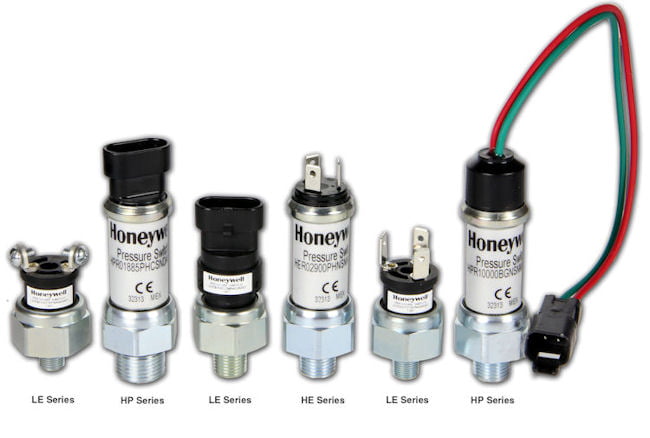 The media (gas or liquid) pressure is applied via the port of the switch to a diaphragm or sealed piston. A pre-compressed spring on the other side of the sealed piston or diaphragm controls the set-point pressure. If the force resulting from the pressure is greater than the load on the spring, the electrical contacts within the switch will change state. If thecontacts are normally open when no pressure is applied, they close on increasing pressure when the set point is reached. On decreasing pressure, the contacts will open again at a pressure somewhat less than the set switching point. The difference between the activation point on increasing pressure and the deactivation point on decreasing pressure is called hysteresis. The set point pressure for the switch can
be configured such that the switch will actuate on increasing or decreasing system pressure.
VALUE TO CUSTOMER
• Reduce total cost of ownership due to comprehensive selection of ports, electrical terminations and compatibility with a variety
of media
• Help to protect operators and critical equipment subsystems due to up to 2M life cycle rating, IP67 sealing, and high burst
pressures—making them one of the most durable in the industry
POTENTIAL APPLICATIONS
Transportation
• Agricultural machinery
• Heavy duty construction machinery
• Heavy duty trucks
• Lawn & garden
• Marine vessels
• Material handling machinery
• Railway
Industrial
• CNC machines
• Compressors, boilers
• Fracking equipment
• Food & beverage equipment
• Generators
• HVAC/R equipment
• Mud pumps
• Pneumatic equipment
• Presses and punches
• Pressure washers
• Trash compactors
• Water jet cutting machines
• Water pumps
.
Enquiry Form: http://www.epreston.co.uk/enquiries.php
Home Page: http://www.epreston.co.uk/epblog/