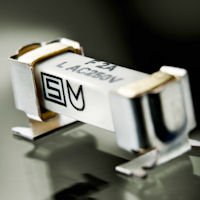 Schurter is expanding its range of surface mount fuses with the introduction of the UMK 250 series. The quick-acting characteristic of this fuse is in accordance with IEC 60127-4, providing the logical addition to the existing UMZ 250 time-lag series. The UMK 250 provides primary and secondary overcurrent and short-circuit protection.
Schurter offers the UMK 250 in ten rated currents from 500 mA to 4 A. The fuse and clip combination is designed for easy fuse replacement. Rated for the protection of primary and secondary PCB circuits, the UMK 250 is designed for applications including power supplies, medical equipment, lighting and devices for home and industrial use.
This series is RoHS compliant and compatible with lead-free soldering processes. The UMK 250 fuseholder is an ideal substitute for similar SMD fuses, where the fuse clips are not offered. The compatability of the solder pads allows the SCHURTER product to be used in cases where the ability to replace the fuse is desired. The installed fuse-link UMF 250 is considered an Universal Modular Fuse (UMF) and carries VDE and cURus approvals. This ultra-small fuse
including clip is 11.3 x 4.2 x 4.0 mm with a breaking capacity between 100 – 200 A at 250 VAC /
125 VDC.
Technical features:
– Rated Current range: 500 mA to 4 A
– Rated voltage: 250 VAC and 125 VDC, according to IEC
– Breaking capacity: 100 – 200 A @ 250 VAC / 125 VDC
– Characterisitc: Quick-Acting F, according to IEC 60127-4
– Component size including Clip: 11.3 x 4.2 x 4.0 mm
Applications:
– Primary and secondary overcurrent protection
– Lighting
– Medical appliances
– Industrial electronics
.
Enquiry Form: http://www.epreston.co.uk/enquiries.php
Home Page: http://www.epreston.co.uk/epblog/