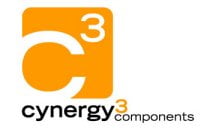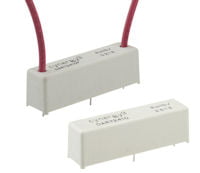 Cynergy3 Components have recently launched a new variant of their high voltage reed relays – these having high insulation resistance of 1x10E14 Ohms. Available in PCB mount format with either PCB connections or flying leads, there are a range of 5, 12 or 24Vdc coil versions, with either tungsten or rhodium contacts.
* 10kV or 15kV Isolation
* Low Contact Resistance
* PCB or Flying Leads Connections
* Ideal for sensitive test and measurement circuits which require low leakage current losses
Very high isolation voltages – up to 15kV – are achieved through the use of high vacuum reed switches with either rhodium or tungsten contacts which make these relays suitable for high reliability applications, such as cardiac defibrillators, test equipment and high voltage power supplies. The rhodium contact relays have low contact resistance, while the tungsten contact relays can switch higher voltages.
Typical applications for these DH-R Series relays include cardiac defibrillators, test equipment, high voltage power supplies and other high reliability equipment.
.
Enquiry Form: http://www.epreston.co.uk/enquiries.php
Home Page: http://www.epreston.co.uk/epblog/